Mount Elbrus or Happiness Mountain is a dormant volcano located in the western Caucasus mountain range, in Kabardino-Balkaria and Karachay–Cherkessia, Russia, near the border of Georgia. Mt. Elbrus's peak is the highest in the Caucasus, in Russia.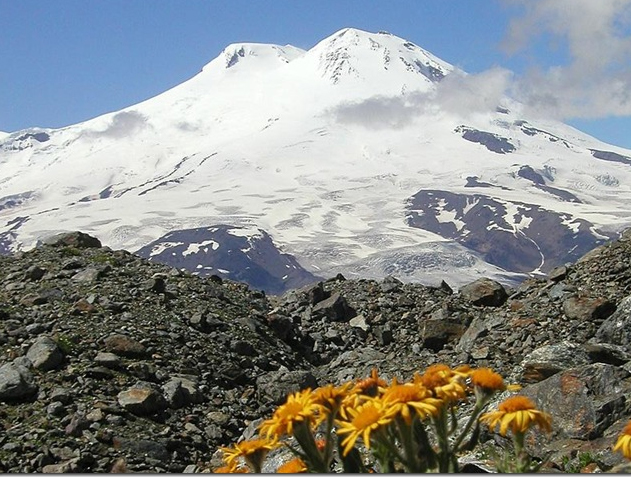 Elbrus stands 20 km (12 mi) north of the main range of the Greater Caucasus and 65 km (40 mi) south-southwest of the Russian town of Kislovodsk. Its permanent icecap feeds 22 glaciers, which in turn give rise to the Baksan, Kuban, and Malka Rivers. Elbrus sits on a moving tectonic area, and has been linked to a fault. A supply of magma lies deep beneath the dormant volcano.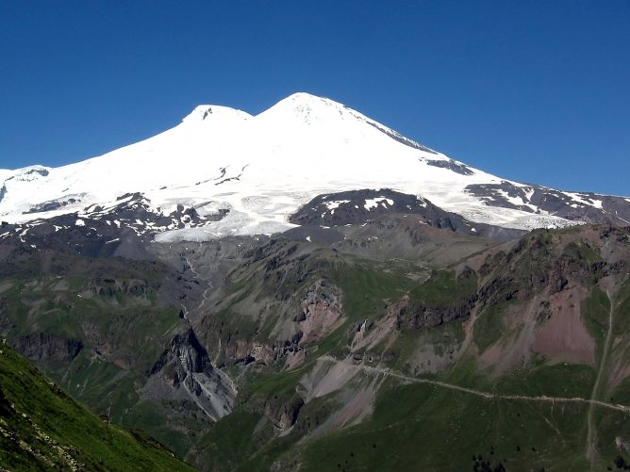 The volcano is currently considered inactive, as no eruptions have ever been recorded. Still Elbrus was active in the Holocene. According to the Global Volcanism Program the last eruption took place between 0 and 100 AD. Evidence of recent volcanism includes several lava flows on the mountain, which look fresh, and roughly 260 square kilometres (100 sq mi) of volcanic debris. The longest flow extends 24 kilometres (15 mi) down the northeast summit, indicative of a large eruption. There are still more various signs of activity still present on the volcano, including solfataric activity and hot springs. The western summit has a well preserved volcanic crater about 250 m in diameter.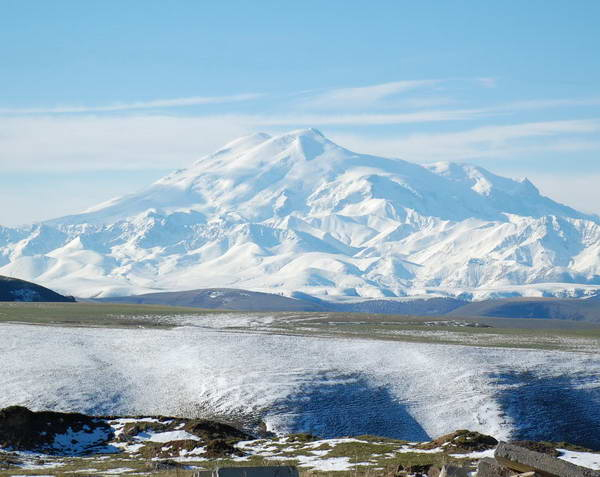 Elbrus is the largest center of modern glaciation. Both peaks are covered with a solid firn cover, from which disperse 23 of the glacier. 17 of them powerful, the first category. Seven large glaciers flow down to the North and belong to the basin of the river Malka. Ice - like material, and under the influence of the natural slope of the mountain and its mass flows. Average speed of movement of glaciers is about 0.5 meters per day. The total area of perpetual snow and ice on mount Elbrus reaches 135 square kilometers. The power of the ice reaches in some places 400 m. For comparison it should be noted, that the total area of glaciation of the Caucasus - 2000 sq. km.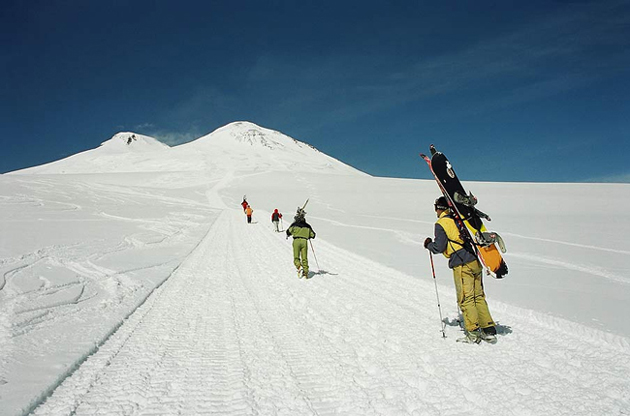 Legend about the Elbrus
In the old days, when in place of the Caucasus mountain range stretched fertile plains, there lived the legendary sledge-heroes. Leader they had a mighty prince Elbrus. He had a son, a fearless horseman and warrior Beshtau. Blithely proceeded life Beshtau in raids on foreign nations, and among the merry feasts with friends. He understood the language of animals, and always in the campaigns of the valleys and forests, he was accompanied by a clever, quiet snake, tough Camel Bull athlete, a fierce lion. But one day he saw a beautiful woman Beshtau Mashuk in the nearby village, and flared between passionate love. He came to his father and asked permission for the wedding. For three days and nights walking on her sled. But everything became darker and darker Elbrus, which has crept into the heart belated sizzling love for young Mashuk. And he thought of black business, called his son and told him to go to a distant raid emegenov ferocious tribe, people eaters. Dared not disobey his father Beshtau, gathered his young dzhigits and went to distant lands. For a long time he did not return, and Elbrus spread the rumor about the death of Beshtau Mashuk and forced to become his wife. He put on her massive gold ring on his finger, imprisoned in the hut. But not killed Beshtau, and with rich production late in the evening with his friends returned to his native village. First met his snake, lion, camel and Bull, told him of the treachery of his father. Beshtau crept to the hut, where the Mashuk, saw her crying and sadness. And they decided to flee to distant lands. The dead of night, accompanied by true friends, they went to the north, where the stretched dense forests. On the road dropped Mashuka hateful engagement ring Elbrus. The next morning found no Mashuk Elbrus, gathered his men and rushed in pursuit of the fugitives. And it is here where the mountains rise up now, volcanoes erupted battle between fathers and children. Bravely fought young horsemen, helped them to Lion, Snake, Camel and Bull. But power was on the side of the mature men. Friends died Beshtau and converged alone father and son. He raised his sword and cut Beshtau Elbrus head in two. But gathered all his strength hero, hit an iron helmet from his head and cut Beshtau son into five parts. Dropped dead of a brave, bent over him crying Mashuk, grabbed his belt favorite dagger and plunged into his heart, and then tossed it aside. Shook the earth from such a monstrous battle, petrified with horror old sledges, become snow-capped mountains of the Caucasus led by bimodal Elbrus. And here in the north, there were mountains, volcanoes, where there continues to beat a young, hot blooded young dzhigits. Around Beshtau are his faithful companions lion, camel, bull, snakes, mountain apart is the dagger, on the way to the mountains towering Mount Ring. Fell at the feet of the beloved Mashuka, darkens failure fatal wound in her chest, where healing keys knocked her blood.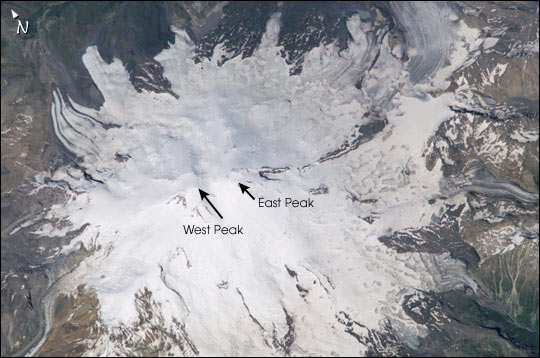 Elbrus climbing routes

The Normal Route is the easiest, safest and fastest on account of the cable car and chairlift system which operates from about 9am till 3pm. Starting for the summit at about 2am from the Diesel Hut should allow just enough time to get back down to the chairlift if movement is efficient. Note in bad weather the chairlift section may be closed, also note the chairlift ride is 15 minutes long and can be very cold.
The majority of groups take the cable car system from Azau roadhead to Mir Station from where either a 1 hour walk or a chairlift takes them to Garabashi - "The Barrels". Above it may be possible to hire a snow cat to go to the Diesel Hut (site of the burnt Priut Hut) or higher to Pastukhova Rocks. Walking this takes 90 minutes to the hut and almost 2 hours more to the rocks. The walk to the Saddle takes another 3 to 4 hours and from there to the summit, a further 90 minutes should be allowed for.
There are no major difficulties on the route, however after strong winds icy sections may be exposed and a fall could result in a slide. Particular care should be taken on the traversing ascent from the Saddle. The Saddle hut is a ruin that offers no shelter. There are few crevasses of any size or danger if you stick to the route but only 50m off the route you could be in dangerous terrain.

Sample Itinerary

Fly to Mineralnye Vody. Private bus transfer to base hotel in Baksan Valley.
Acclimatisation walk from hotel.
Ascend cable car system to Garabashi Huts. Possible acclimatisation walk to Pastukhova Rocks.
Acclimatisation walk to Pastukhova Rocks. Possible attempt on summit if very well acclimatised on arrival.
Attempt on Elbrus.
Another possible attempt on Elbrus.
Descend to hotel in the Baksan Valley.
Drive back to Mineralnye Vody for return flights.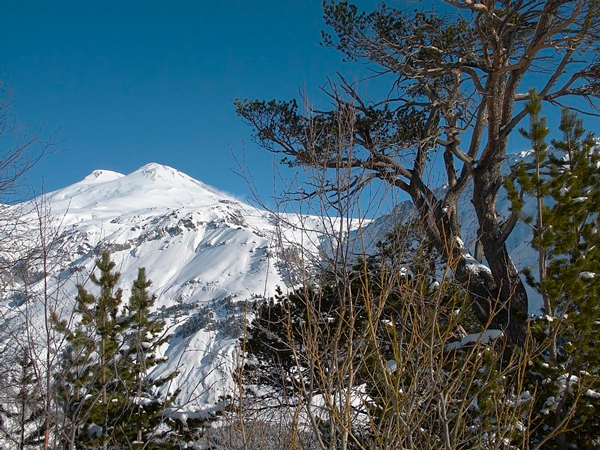 Details

Elevation (feet): 18510
Elevation (meters): 5642
Continent: Europe
Country: Russia
Range/Region: Central Caucasus
Latitude: 43.355
Longitude: 42.4392
Difficulty: Basic Snow/Ice Climb
Best months for climbing: Jun, Jul, Aug, Sep
Year first climbed: 1874
First successful climber(s): A. W. Moore, F. Gardiner, F. Cruford Grove, Horace Walker, Pete Knubel
Nearest major airport: Moscow, Russia, Kiev, Ukraine, Tbilisi, Georgia
Convenient Center: Mineral'nye Vody, Russia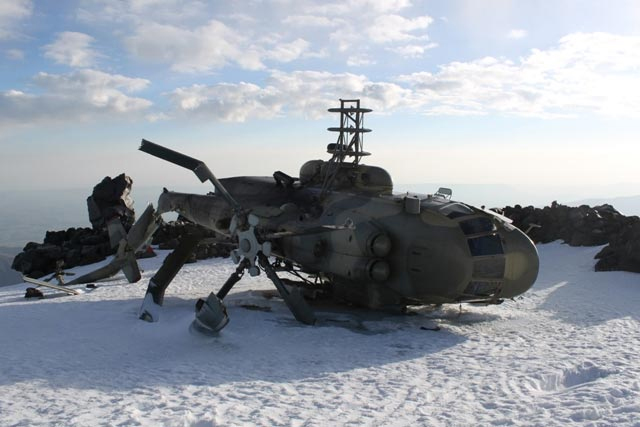 The brand-new military helicopter produced in 2009 cost about $ 10 million to meet us lying on his side with skewed blades and a broken tail.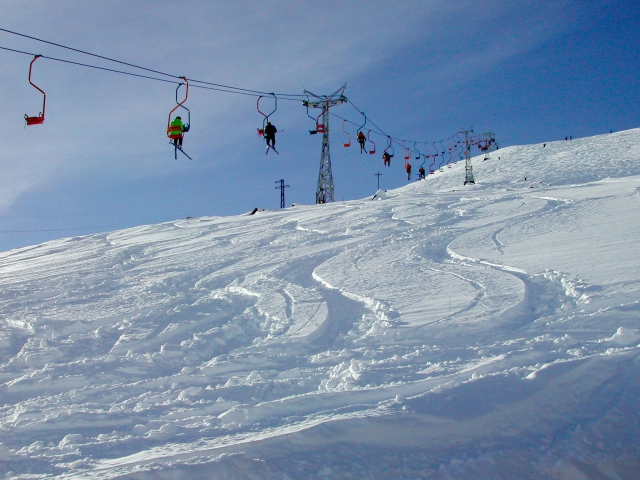 Elbrus is one of the most popular and most famous ski resorts, it is located deep in the Baksan Valley - the heart of the Caucasus. In the resort 12 km lifts and 35 km of ski slopes, the two main slope - the main ski area famous Baksan Valley - Cheget and Elbrus.
In some areas the slopes skiing possible all year round. In general, in the Elbrus ski season lasts from November to mid-May.
Trails are well-equipped and suitable for both the athletes and for beginners. These tracks are among the most beautiful in Europe. From beginners will engage experienced instructors. Two-headed Elbrus - the highest peak in the Caucasus, Russia, and all over Europe. Its west peak has a height of 5642 m, and the East - 5621 m The highest accessible point in the Elbrus is Gara-Bashi, its height is 3,780 m above sea level. Until Gara-Bashi Station Mir can be reached by snowcat.
Cheget - this is one of the most difficult routes, not only in Russia but also in the world ski resort, it can only ride skiers. Cheget height - 3700 m mountain slopes, in skating are among the best in the country and is highly popular slopes of ski resorts in France, Austria, Switzerland and Italy. Cheget widely known as a place of national and international competitions in alpine skiing.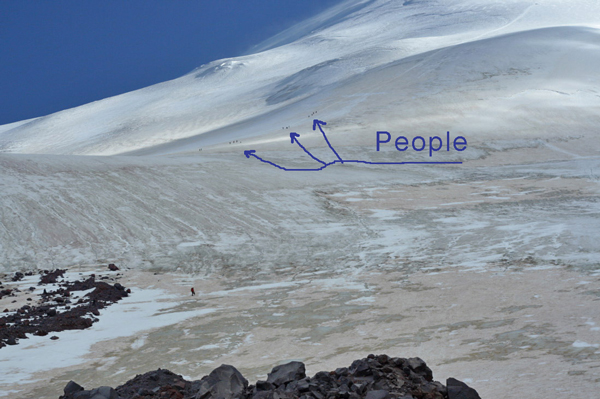 Mount Elbrus is perpetually snow-covered with an icecap and 22 glaciers. Three major rivers—Baksan, Malka, and Kuban—arise from the glaciers.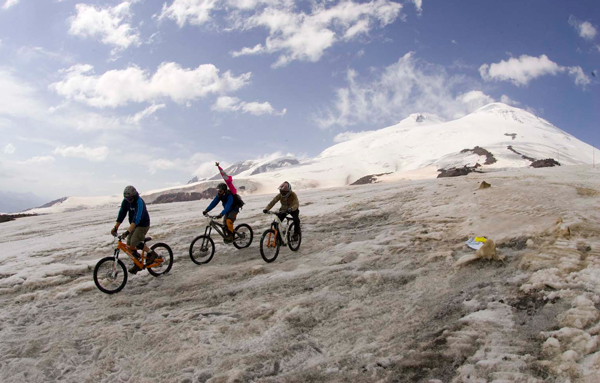 Crazy people on the Elbrus.

Source: magic-ays.com