Tverskaya oblast is situated only about 100 kilometers from Moscow and it's really worth exploring. Below you can read about its ancient churches, remnants of Soviet Glory, mysterious objects of Russian space and war industry and, certainly, beautiful nature.
Tver.
This city is very old, but not very clean, and famous for its bad roads.
Kashin.
Bird's eye view of Kashin is very beautiful. Kashinka river bed forms a perfect shape of heart.
The monument to Lenin is standibg among blue fur trees, just like in any other post-Soviet city. Lenin is looking on Cathedral of Resurrection, where only recently had been a recreation centre with a canteen in the basement.
I guess it's on reconstruction now. I've been inside about 2 years ago. I just gave 50 roubles to cloakroom lady and she let me to go up the bell tower.
I doubt that girls will be happy with such an adventure - the staircase is more o less whole only because of the doves who have a habit to defecate on it.
View from the bell tower.
Kalyazin. This city is famous for its bell tower of Nicholas Cathedral which stands right amidst the water.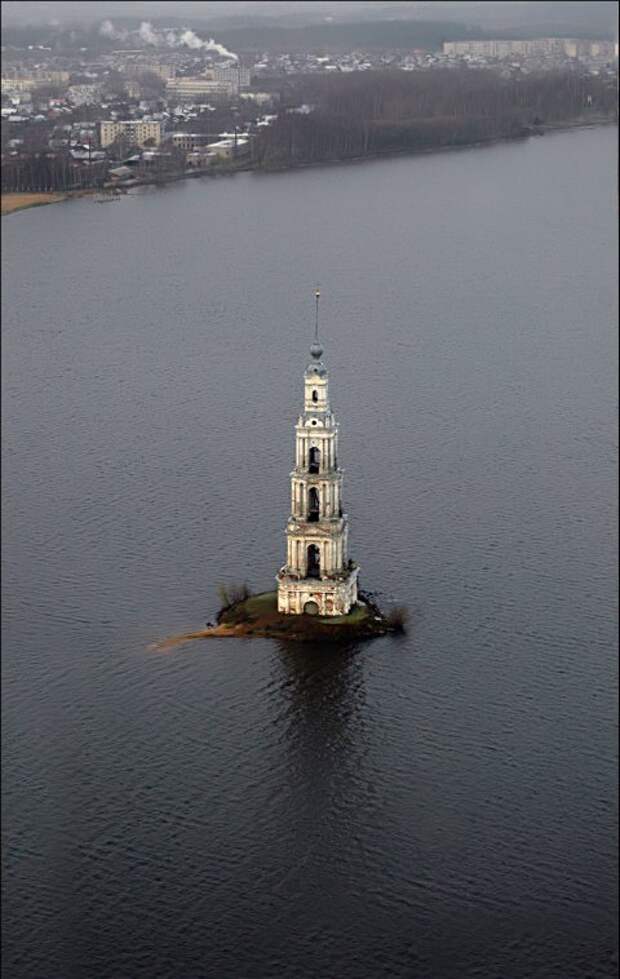 From the road, while entering the city, you can see Radiotelescope of the Space Communication Centre.
Every time it's in different positions, now it's standing :).
Between Kashin and Kalyazin there is a bridge via river Volga with a curious plate on it.
"Built in 1976-1979 years on the initiative and with participation of honorable citizen of Kalyazinsky district Morev V.G."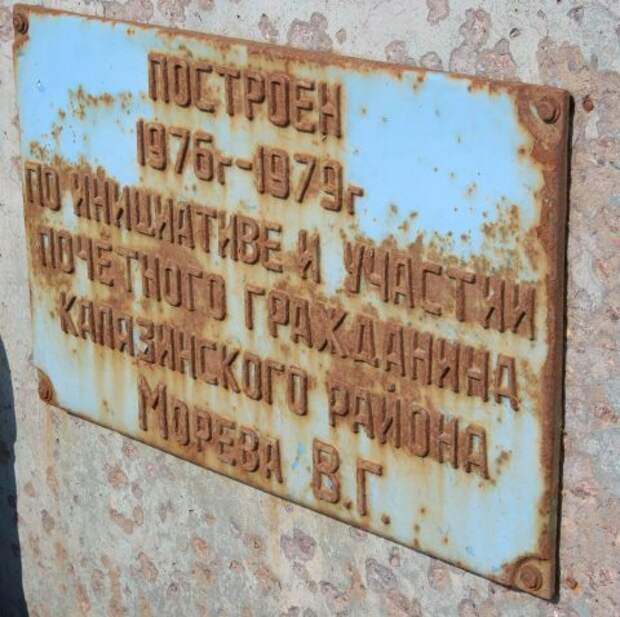 River Medveditsa. Left affluent of Volga, clean, with picturesque shores... Not far from Tet'kovo village there is an abandoned dam.
Really nice place. Here you can often meet fishermen, party people, kayakers. Although you cannot call this place a nook, there are plenty of berries and mushrooms, as well as beasts and reptiles.
Up the stream there is a small village where you can rent a cottage and have a good time.
Another interesting object in Tverskaya oblast is a sphere in the forest not far from Ignatovo village.
 This place is very close to Dubna, in autumn and spring it´s not very easily approachable. People usualy go there by jeep, by feet or even by tractor. Through a small hole you can get inside and leave your autograph on generously painted walls.
Of course there are a lot of other places in Tverskaya oblast. One of them is th Seliger lake. But it's another story...
Source: CARbivnik
Translation: