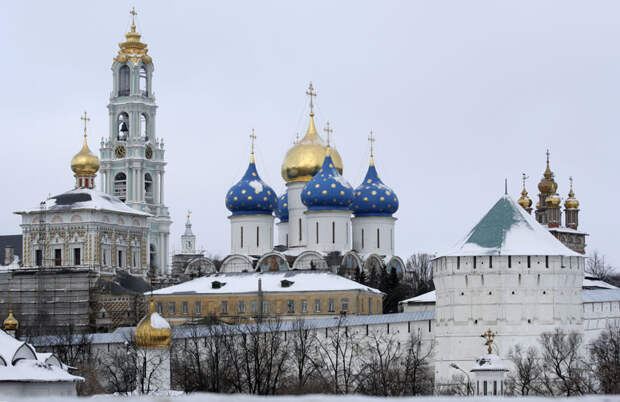 Golden Ring is a set of ancient Russian cities north-east of Moscow which form a circle if you look at them on the map. Moscow and St Petersburg are, of course, the main attractions in Russia, but if you really want to see a true Russian life and how the most of country lives, make an effort to travel to at least couple of the cities in the Golden Ring. You can see old architecture and churches which were built prior to Mongol rule. Some of the Russia's most sacred sites are in cities of the Golden Ring such as Sergiev Posad, Pereslavl-Zalesskiy, Vladimir, and Suzdal'.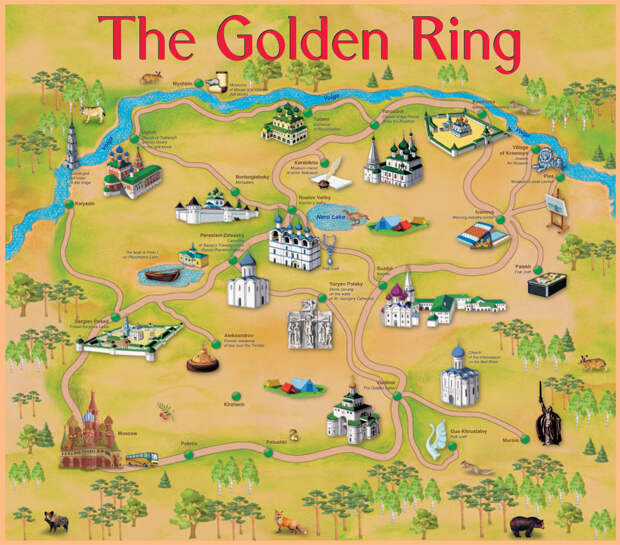 Photo: budgettravelrussia.com
There are plenty of tours available in Moscow, but they are expensive and do not offer you enough time to enjoy these sites. If you are staying in Moscow and plan to make daytrips to the cities in the Golden Ring, you have plenty of options.
The easiest trip would be to Sergiev Posad, which a city built around the ancient monastery founded by Sergey Radonezhskiy, who is considered a saint by the Russian Orthodox Church. It takes an hour by the local train (called elektrichka) from the Yaroslavskij vokzal (railway station) in the direction of Aleksandrov to reach Sergiev Posad. Once the train pulls to the station, you can see the monastery looming in the distance to the east of the station.
It takes ten-fifteen minutes to reach the monastery. The sight of blue onion dome (especially against the blue sky) is really beautiful. The entrance to the monastery is free, and you can wander around marvelling at the wonderful architecture.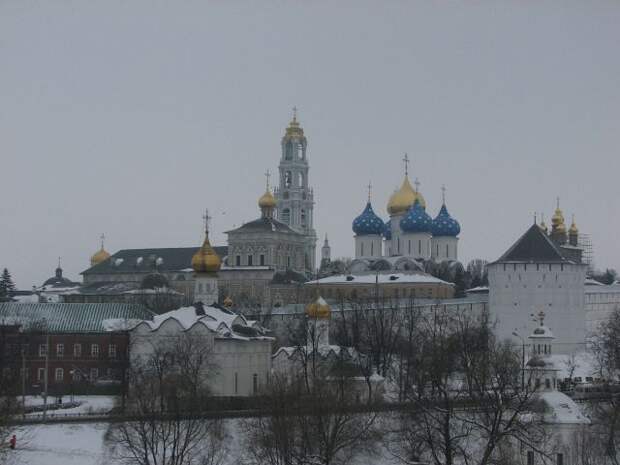 Sergiev Posad. Photo by nat-ka
From Sergiev Posad, you can continue your journey to reach such famous places as Aleksandrov, a site of Ivan the Terrible's favorite palace, or to Pereslavl'-Zalesskiy, one of the most ancient Russian cities founded by Yuriy Dolgorukiy and a birthplace of one of most famous Russian son, Aleksandr Nevskiy. The trip to Aleksandrov from Sergiev Posad would take another hour, and the same time it would take you to get to Pereslavl'-Zalesskiy.
Trinity Cathedral in Alexandrov. Photo by nat-ka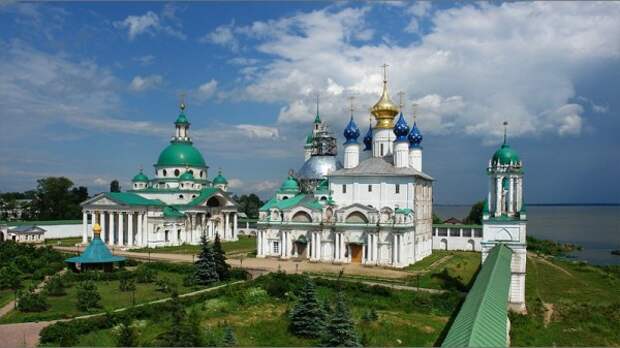 Pereslavl'-Zalesskiy. Photo: eurasia-media.ru
Another daytrip that you might take from Moscow aside from the cities above is to a beautiful city of Rostov, called Rostov Velikiy (Great). It takes 3 hours by train so if you leave early out of Moscow you will have plenty of time to wander around the amazing Kremlin and its aspen onion domes. After visiting the Kremlin, you can take a walk to the nearby lake, Nero, and enjoy the tranquility of Russian provincial life.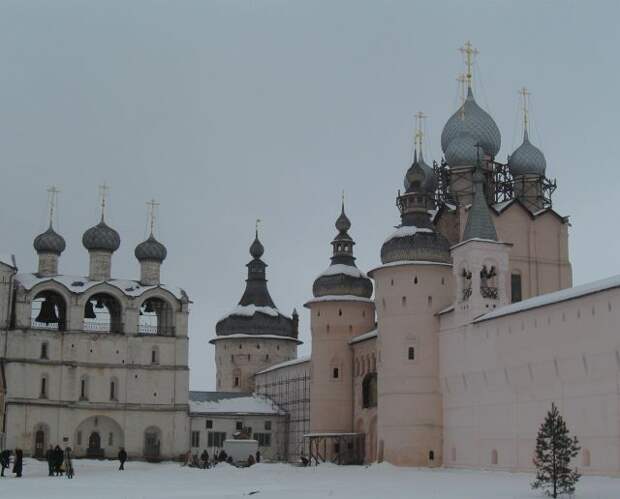 Old city square in Rostov Velikiy. Photo by nat-ka
Yet another option is to travel to Vladimir and Suzdal', two of very ancient and proud Russian cities. In fact, were it not for Mongol invasion, The Russian capital today might have been Vladimir which prior to the invasion was the true center of Russia's political and cultural life.
It takes about 3 hours to reach Vladimir from Moscow, unless you travel on a heavy traffic day - usually in summer. On those days it can take much longer. There you can see Uspenskiy sobor (Assumption Cathedral) which was the most important Russian church in the Middle Ages and nearby St. Demetrius Cathedral. From the city you can hail a taxi to nearby Bogolyubovo which was countryside residence of Andrey Bogolyubskiy, Vladimir's ruler in the middle of 12th century. It takes about 10 minutes from Vladimir center to reach Bogolyubovo and can spend about an hour walking around the monastery that exists on the site of former residence of the prince (knyaz').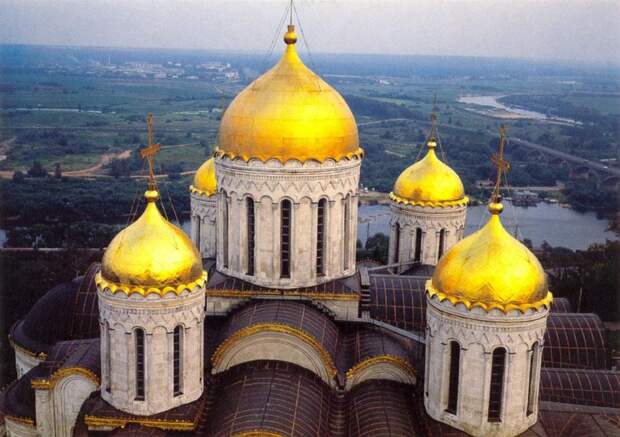 Uspenskiy sobor in Vladimir. Photo: kartinki24
Yet another option is Suzdal' which is a little less than an hour's drive from Vladimir, and it is a true gem of the Golden Ring. This is what you imagine ancient Russia would look like. The city hasn't changed much since 12-13 century and it retains so much charm in it with its lovely churches and monasteries. In fact, you can't walk a block without encountering a church or a monastery. You can easily spend the entire day there but you might squeeze a half a day as well. One interesting thing to do in Suzdal' is to try local drink, medovukha which is light alcoholic drink derived from honey, and it is sold everywhere in the town.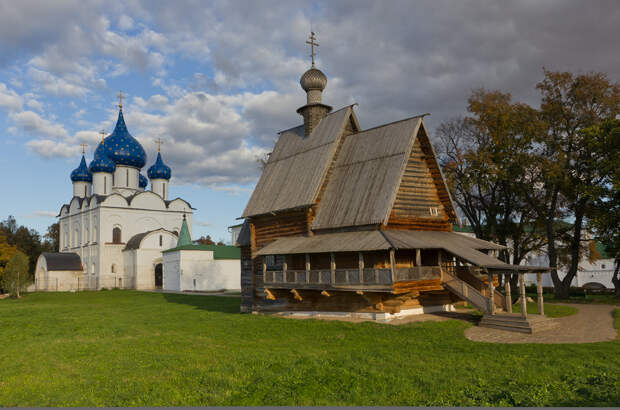 Suzdal'. Photo by Margarita Shrayner
A better alternative to daytrips would be stay overnight in some of the cities and then continue traveling to your next Golden ring destination. In Suzdal, you can stay inside one of the convents - the Pokrovsky Monastery (in Russia, they use the word Monastery for both male and female monasteries/convents) is a convent that also has a hotel and restaurant on the grounds. See TA reviews and other pages for info. Try to hire a driver for several days, and that way you are not dependant on the train and bus schedules. It would really help if you have Russian friends who might find somebody willing to drive you for a reasonable fee.
All in all, you should really attempt to see at least some of the Golden Ring cities, after all, this is the cradle of Russian culture and the beginning of its modern history.
Source: Tripadvisor
 -------------------------------------------------------------------------------------------------------------------------------------------------------------------------------------------------------------------------------------------------------------------
Read also: Vladimir – town of the Golden Ring. Photoreport